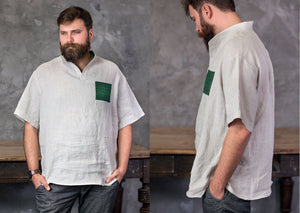 LEISURE, LINEN, SILK
Men's relaxed fit linen shirt. The collar is padded with natural silk for comfortable wear. Suitable for a summer walk in the city or a weekend getaway.
AUBERGINE RAGLAN WITH MILKY-WHITE SLEEVES
Two-color long-sleeved raglan style shirt. The garment is adapted for wide movements if needed. The theme of two garments combined into one for cooling summer.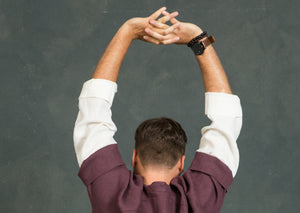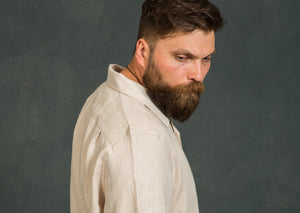 BEIGE BOWLING SHIRT
Casual sporty shirt. Sturdy construction, buttoned along the entire length.
TROMPE L'OEIL SHIRT IN DUSTY MINT COLOR
A spacious trompe l'oeil linen shirt with rollable sleeves. For cooling summer.
Reason to be
The large supply of clothing hides a complex chain of logistics and processes, where quality and duration of wearing are set to last for a short amount of time. Fabrics just become a material to print fashion news on and the garment itself is later thrown away like an old newspaper.
We want to think about clothing and create it ourselves. We want to provide clothing that lasts longer. Therefore, we look for simple combinations that consist of two essential elements - high-quality fabrics and a design that would last for at least half of the time that the fabric itself lasts.
Journal
Today stories about clothes that are worn by several generations may sound mythical, but they are actually true. One example could be boro (ぼろ), the garments of several time layers...
The primary function of clothing is rather straightforward, i.e. to protect the body from the elements. For the purpose of fulfilling this function, the quality of fabric and construction (cutting)...